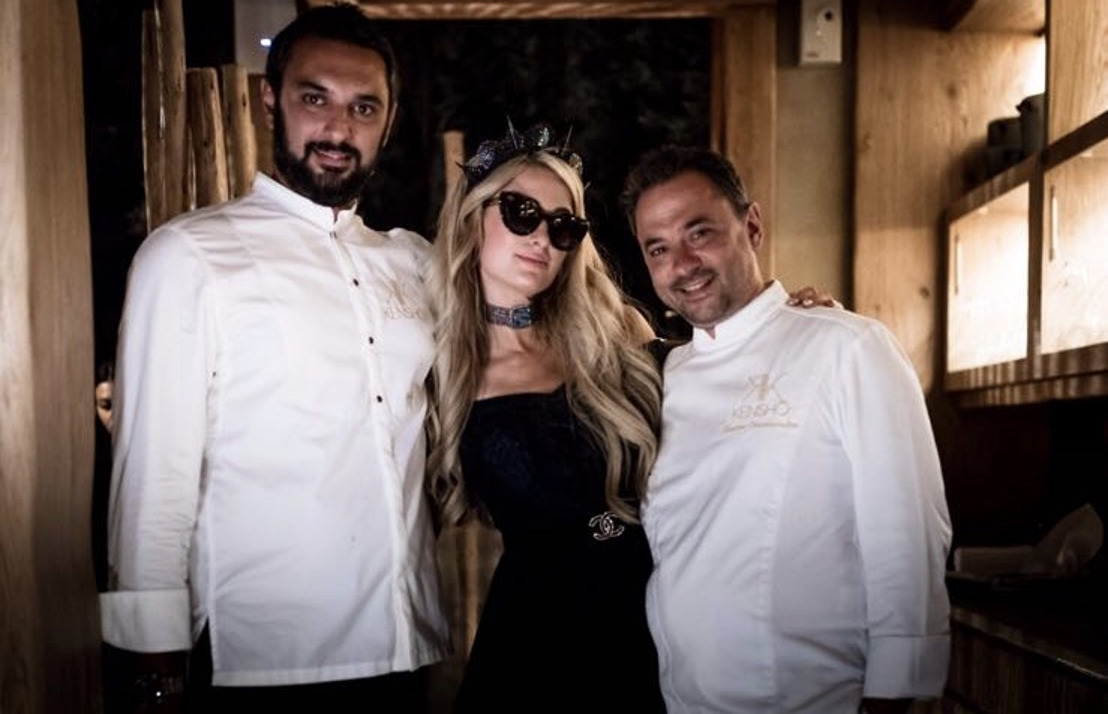 5 reasons why BRAND NEW Kenshō Psarou is THE celebrity hangout
Monday, 20 August 2018 — Having opened last month, Kenshō Psarou, located on Greece's famous beach of the same name, has been speedy in attracting the world's media and celebrities. Internationally-renowned star Paris Hilton was amongst the first to experience the amenities on offer.
In July, Hilton partied at the brand new Kenshō Psarou Lounge with friends, including fiancé, Chris Zylkak, event guru Bronon van Wyk, film producer Mo Al Turki, global entrepreneur Bert Hedaya and the mayor of Mykonos himself.
With A-listers flocking to the scene, what makes this swanky new hotel such a hit? Here are 5 reasons why it is a must-visit this season.
Design
Following in the footsteps of Kenshō's first property at Ornos Bay, Psarou's 30 rooms (including the 4 bed luxe villa) are designed with the utmost attention to detail. Each room boasts decorative touches not found anywhere else in the hotel. Yep, your room is totally original!
Mr. Alekos Kolovos, Head of Architecture & Design, wanted to create a feeling for guests that made them feel extra special during their time at Kenshō. With outdoor hot tubs, jet plunge pools, sea views and helipad heights – he definitely hit the mark!
Beach
The great thing about Kenshō: it's the only property directly ON Psarou beach. You can step from hotel to shore in seconds. There are lavish sunbeds to lounge on, and waiters are on-hand to serve picture-perfect cocktails throughout the day. There is no way you'll want to move bum from beach.
Want something extra? The nearby spa masseuses deliver first-class foot massages, which go down a treat with a margarita in hand.
Food
Kenshō Ornos won numerous international awards for its gastronomic excellence; it's no surprise then that the legacy continues in Psarou. Kenshō Psarou Lounge­­, with its grand lighting, boho-chic furniture and glamourous atmosphere, offers a menu designed by Mykonian chef Ippokratis. The concept is one of Mediterranean cuisine with a modern, artful twist: think aromas of Greece with Japanese influences and Peruvian flavours.
Bar
Nothing says luxury beach break like a signature cocktail. And the Kenshō Psarou Bar is ready to quench your thirst and become the highlight of your Instagram feed! Furnished by renowned designer Riva, the bar displays sunset views across the ocean. Cocktails never looked so good. Better yet, the Kenshō Lounge pool presents the ideal setting made for a revitalising dip and drink.
Spa
The Spa at Kenshō makes it the first to ever be located on the world-famous Psarou Beach, which only adds to the exclusivity and prestige of the hotel. Now you can enjoy revitalising treatments, massages and therapies just seconds away from golden sands. Choose from not one, not two, but three indulgent menus, including one that caters to those who arrive by yacht. Nothing says A-list quite like that!
Kenshō Psarou is, without a doubt, THE hottest place to be seen this season. Be sure to book now and come mingle with the global elite!
ENDS

Notes to editors
For media enquiries, please contact Phoebe Irving, UK PR Manager, at phoebe@prmediaco.com or Jack, UK PR Account Manager, at jack@prmediaco.com.

About Kenshō Psarou
Kenshō Psarou is a brand new hotel on the world-famous Psarou Beach in Mykonos. Comprising 30 luxury suites, a chic bar furnished by distinguished designers, a culinary experience like no other and an ethereal spa, the hotel resets the bar for lavish hospitality.
Direct flights run regularly from the UK to Mykonos. The hotel is a mere 10' drive from Mykonos airport, and private transfers can be booked for arrival.