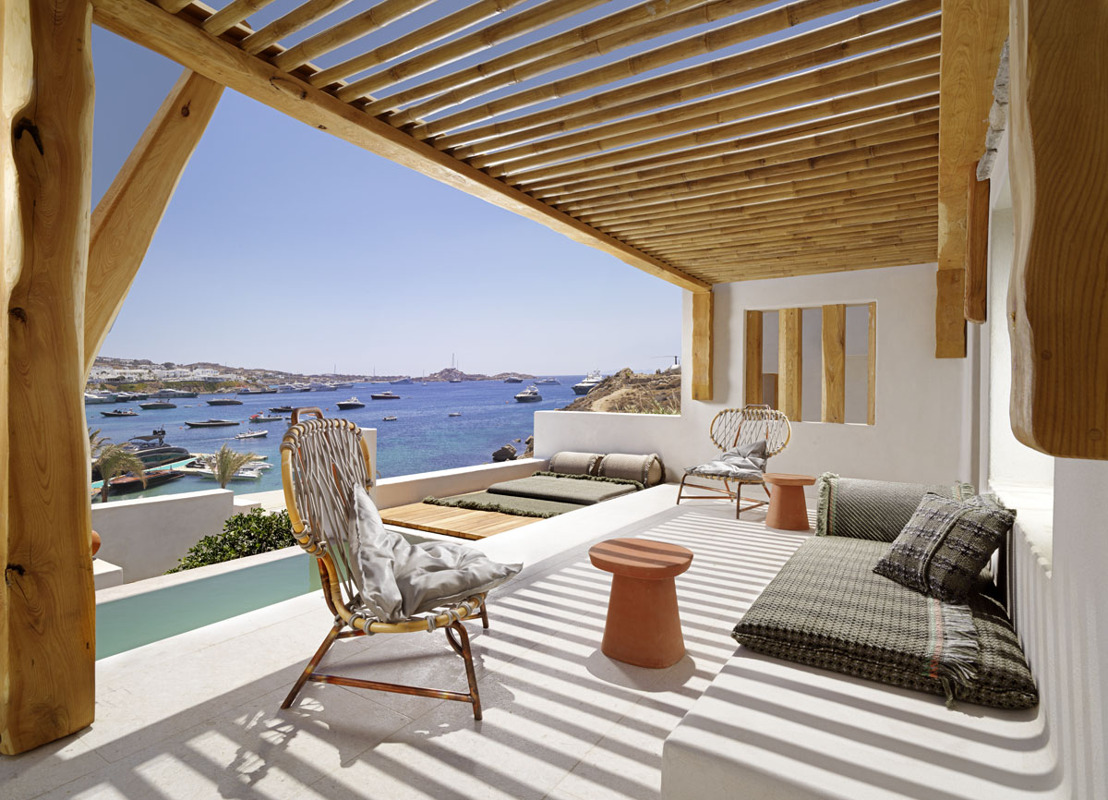 Enjoy the Last of the 2019 Sun at Kenshō Psarou
Monday, September 30, 2019 — Attracting A-listers from far and wide, Kenshō Psarou brings a cosmopolitan concept, where the lines between 'home' and 'hotel' blur, alongside beautiful design and facilities. Pioneering a new kind of hospitality it's no wonder the five-star has instantly picked up awards such as 'Greece's Leading Boutique Hotel' in 2019 World Travel Awards in just its first full season.
Award-winning Design
The boutique hotel's spectacular collection of 29 rooms and suites boast individual designs and refined furniture. Inspired by Aegean architecture with a rustic, minimalistic feel, this is just one reason why Kenshō keeps reeling in the awards. Each suite comes with an extra special touch, either a private outdoor hot tub or plunge pool.
A blend of wood, wicker and stone sets the boho-chic luxury tone whilst premium amenities, such as iPads preloaded with playlists and high-tech guest services, go above and beyond a traveller's modern tech needs.
Catch One of Europe's Best Beaches
Kenshō Psarou has scored one of Mykonos' best spots: Psarou beach. With pristine white sand and calm crystal water, the beach is a top spot for the rich and famous. The slice of heaven, enclosed by mountains, is just 5 km from the town of Mykonos.
Luxury dining on the water's edge takes to new heights at Kenshō Psarou Restaurant. The restaurant's menu, a fusion of modern Mediterranean cuisine with Japanese influences and Peruvian flavours and an emphasis on fresh seafood, alongside the setting of the sparkling pool and sea is a dreamy experience.
A World of Treats
Redefining the modern spa experience, the beauty powerhouse by the sea that is Kenshō Beach Spa offers a unique range of treatments. Choose from powerful Medi-Spa Technology practices to a natural massage on a restorative sand massage table. Then float away in the Spa Water Pod.
To get some action head to the fitness centre then cool off in the swimming pool whilst you take in the picture-perfect sea views. Want to take back a part of Mykonos with you? The Kenshō Psarou boutique has an amazing collection of unique clothing, jewellery, shoes and swimwear by creme de la creme Greek designers.
Catch Kenshō before 13th October and enjoy 3 nights for the price of 2 for a limited time: kenshomykonos.com/kensho-psarou.
ENDS
Notes to editors
For enquiries, email phoebe@prmediaco.com and jack@prmediaco.com.
About Kenshō Psarou
Kenshō Psarou is a brand new hotel on the world-famous Psarou Beach in Mykonos. Comprising 30 luxury suites, a chic bar furnished by distinguished designers, a culinary experience like no other and an ethereal spa, the hotel resets the bar for lavish hospitality.
Direct flights run regularly from the UK to Mykonos. The hotel is a mere 10' drive from Mykonos airport, and private transfers can be booked for arrival.